Stambaugh Ness Presenting Eleven Sessions at Deltek Insight 2019
Deltek Platinum Partner Shares Expertise on Deltek Solutions as Gold Sponsor/Exhibitor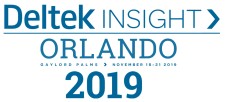 YORK, Pa., August 27, 2019 (Newswire.com) - ​​​​​​​​​​Stambaugh Ness (SN) has announced that several of their experts specializing in Deltek Vision and Deltek Vantagepoint solutions will be presenting at Deltek Insight 2019, being held November 18-21 in Orlando, Florida. Insight is an annual event attended by over 3,000 project-focused professionals who come together to gain valuable knowledge to improve performance and accelerate growth through Deltek solutions. SN's presenters will provide in-depth insight and knowledge that attendees can apply to their project-based businesses.
The SN line-up of presenters includes Director of Client Solutions, Susan Patrick; Director of Consulting, Melissa Garner; Senior Consultants Barbara Bunting, Jessica Daniele, Nathan Brown, Seta Liacopoulos, and Stacie Ferrell; and Consultant, Patricia Hunt. With topics ranging from creating actionable dashboards to building out a marketing infrastructure and simplifying project planning, attendees will leave with strategies designed to elevate their organizations.
"Don't Just Fly, Soar" (Dumbo): See How Vision Customization Can Work for You - Jessica Daniele and Nate Brown, Stambaugh Ness
Adding User Defined Fields (UDFs) & Workflows: Where Do You Start? - Melissa Garner, Stambaugh Ness
Build Out a Marketing Infrastructure: More Than Just an Accounting System - Stacie Ferrell, Stambaugh Ness
Eliminate Spreadsheets and Harness the Power of User Defined Info Centers (UDIC) - Nate Brown and Patricia Hunt, Stambaugh Ness
Creating Actionable Vantagepoint Dashboards - Barbara Bunting, Stambaugh Ness
Leave the Imagination to Disney: Avoid Custom Invoices - Jessica Daniele, Stambaugh Ness
Play Nice Together to be More Efficient and Effective in Our Roles - Susan Patrick, Stambaugh Ness
Reduce Time & Expense Errors and Delays - Melissa Garner, Stambaugh Ness
Simplifying Your Project Planning Process - Barbara Bunting, Stambaugh Ness
The Magic of AP Approvals in Vantagepoint and Vision - Jessica Daniele, Stambaugh Ness; Pam Conlon and Ron Mertes, Foresite Group, Inc.
Transaction Center – Which Transaction Type Should I Use? - Seta Liacopoulos​, Stambaugh Ness
As a Gold Sponsor of Insight and Deltek Platinum Partner, SN will be highlighting their profound working knowledge and years of hands-on experience helping project-based firms reach their goals and be more profitable.
To find out more about SN's Deltek services, please visit our website.
About Stambaugh Ness 
Stambaugh Ness is a multi-discipline, professional services firm serving clients nationally with a strategic focus on the architecture and engineering, professional services, construction and real estate, manufacturing, not-for-profit, and governmental industries.  Through the Stambaugh Ness family of companies, clients have access to a sophisticated menu of services, including compliance, business advisory, technology, and workforce solutions.
The firm is an independent member of the BDO Alliance USA, a nationwide association of independently-owned local and regional accounting, consulting and service firms with similar client service goals. 
Source: Stambaugh Ness
Share:
---
Categories: Business Technology
Tags: Business Management, Deltek, Deltek Insight, Deltek Vantagepoint, Deltek Vision, ERP Software, Stambaugh Ness
---
Stambaugh Ness
220 St. Charles Way (Suite 150)
York, PA 17402
United States